Diamonds:
All of the diamonds we use in our jewelry are Kimberly Process compliant, which means that they are conflict-free. We work only with fellow members of the agreement, maintaining excellent work relationships with our diamond suppliers and setters so that we can be sure all the practices and conduct throughout the jewelry production is ethical and of the highest quality.
Read more about our jewelry making process of the perfect diamond Hebrew wedding ring.
Gemstones:
We use a range of precious and semi-precious gemstones in our products, all of which are selected with the utmost care and attention.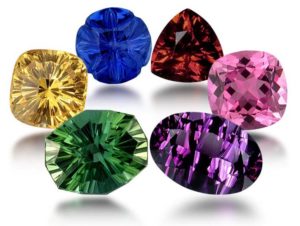 From amethyst to ruby, every one of the gemstones we use are organically formed in nature. We never use artificially colored stones. The vibrant and exquisite colors of our gemstones are completely God-Made.
We only buy from trusted sources who are confirmed to practice the highest ethical standards in gemstone mining. Your conscious can feel completely at ease when you shop at Baltinester Jewelry and Judaica.