Kabbalah jewelry
has its origins from the Judaic and Israeli cultures, and it has different meanings and purposes for the Jewish people. Each piece, be it a pendant, talisman, amulet, necklace, bracelet or ring, holds a symbolic meaning and deep intention to bring blessings and charm into your life. Kabbalah considers Jewish prayers for success, good luck, security, health, wealth, protection and guidance, so the jewels are integrated with sentences from it. They therefore make excellent gifts for family and friends since they symbolize your good wishes for them and theirs.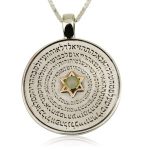 Coincidentally, the term also means receiving, which refers to receiving the truths behind Jewish traditions. It's a mystical representation and interpretation of the Old Testament, that reveals the message of God to the world. The adornments have a wide range, and one among them is the silver ring, made with five metals to give success to whoever wears it. The Ana Bekoach ring is used as a powerful success symbol, courage and protection. The Tree of Life pendant is a symbol of life, unity and love, its trunk, branches and leaves each holding a different meaning. A Message to your Beloved When gifting someone you love, you can choose something with a personal meaning to them to show that you wish them love, hope, prosperity, and well-being. There is a deep belief that this jewelry can impact an individual's life positively. By harnessing the power of spiritual ornamentation, it brings those wearing it good tidings and blessings.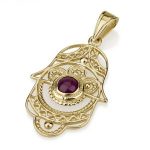 The Merkaba Pendant itself symbolizes healing and protection for a healthy, loving and balanced life. It gives the potential to create our desired reality. The Abundance Pendant is sacred, symbolizing creating abundance by using the power of good. The Ka Earring with Zircons is meant to empower its wearer with creativity, fertility and an increase in life forces. Another piece of jewelry in its range is the Key of Success. This is the Jewish symbol for good luck and success, so imagine how thoughtful it would be to give a loved one this right before a big pitch. I most definitely think they'll get that promotion they've wanted for so long, don't you? There are so many variations in the jewelry line, each with its own unique meaning and blessing. People wear these pieces for all these reasons, and many more personal ones. At Baltinester Jewelry, we have been in the business for 70 years, catering to all our esteemed client's needs. These pieces are a sign of tradition, heritage and excellence. We wear our Jewish pride and are more than happy to help you do the same with just the right piece, and for those you love too. Our jewelry is hand crafted in Jerusalem, serving generations and next generations of clients. Ours is a light unto the nations, if we can call it so. Do pay us a visit, and don't worry if you are not in our vicinity, we have an online store! Check out https://baltinesterjewelry.com for all your Kabbalah jewelry, and much more.
Shalom!