Two Tone 14k Gold Ani Ledodi Diamond Jewish Wedding Ring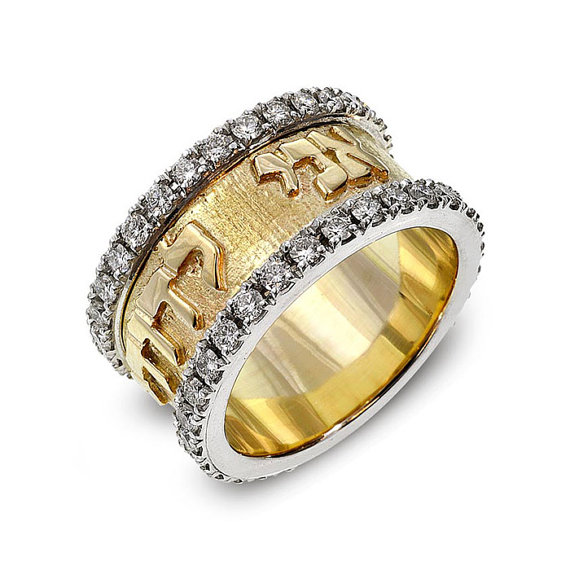 Width: 8mm / 0.31 Metal Type: 14k gold Diamond Weight: 0.5 ct
Explore the creation of the perfect Hebrew Ring.
The specialized process of fine jewelry creation. Also, meet the craftsmen whose skilled hands and keen eyes went into creating this fine piece of jewelry.
Creating the Hebrew Ring
In the case of our handmade Hebrew ring, the process begins with one of our skilled Israeli artists carving a design out of wax to create a master model. Next, he creates a mold out of plaster which is baked overnight, allowing the wax to melt away. Finally, he pours molten metal (14k or 18k gold), heated to extreme temperatures, into the ring cavity in the plaster mold and lets it cool, revealing an exquisite ring of precious metal. The ring is then polished using special tools to give it a high-quality luster.
After the metal is forged and polished the most luxurious part of the ring must be selected—the diamonds. Our diamond dealer chooses only the highest quality of diamonds using the 4 Cs of diamond dealing: Color, Cut, Clarity, and Carat (weight).
Next, the diamonds are set in place. Diamond setting is a skill which requires a steady hand and years of practice. The setter must select the perfect setting to highlight the cut and shine of the diamond while not overpowering the design of the ring. In the case of a Hebrew wedding ring, the diamonds will typically be in a channel or pavé setting on the borders of the ring, leaving space in the center for whichever meaningful Hebrew verse you choose. After the diamond setting is formed, the setter carefully secures the diamonds in place using extremely precise tools and a careful eye, ensuring they will never be dislodged for the lifetime of the ring.
After the ring is made and the diamonds set, the ring goes back to the jeweler for quality assurance and to complete any final flourishes, such as inscriptions or embossments. Here the ring was beautifully engraved with the Hebrew passage "Ani L'Dodi V'Dodi Li."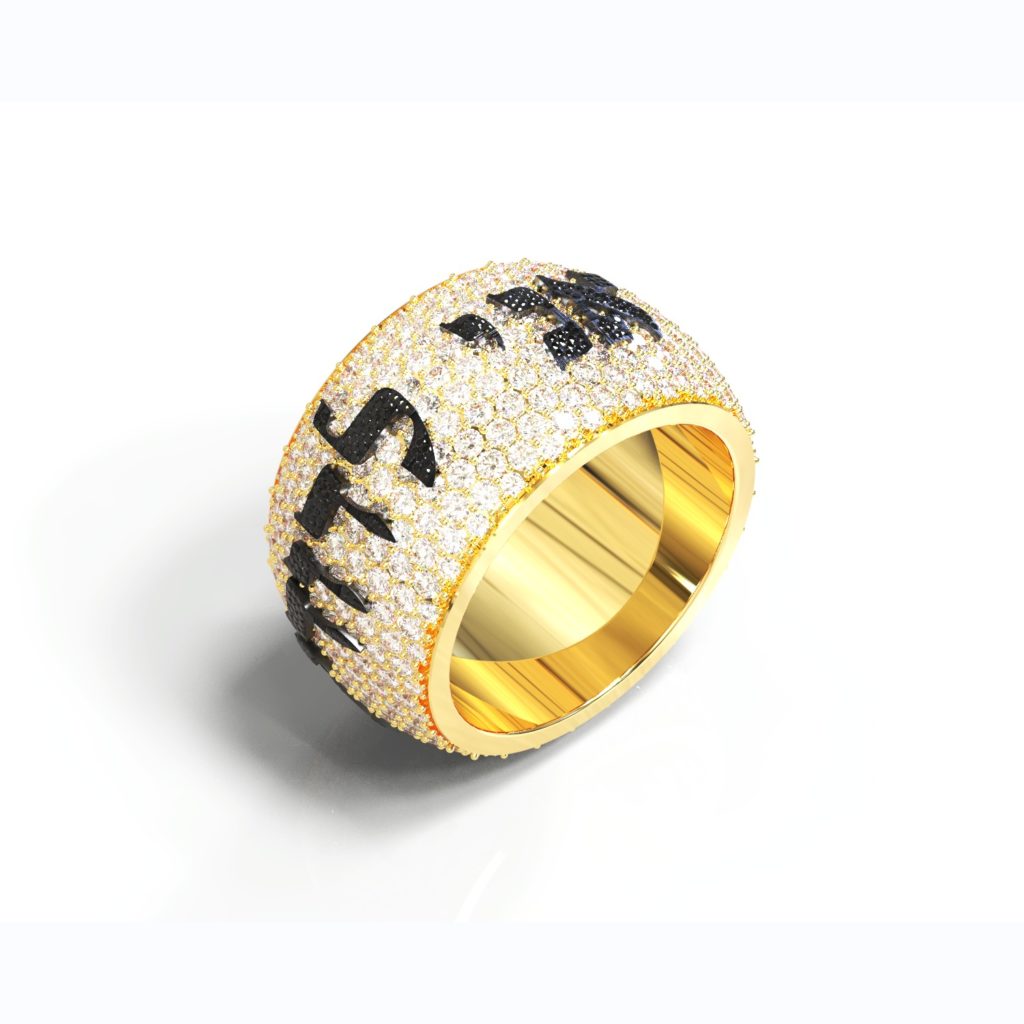 The ring arrives to our store where we will perform a final verification before sending it to you. It is of utmost importance to us that we send you the perfect ring; if there even is the slightest imperfection, we send the ring back to our jeweler to repeat the quality assurance and then do a final verification in our store again.
Here is The Perfect Baltinester Ring.
We hope you will enjoy it as much as we do.